THE IMPACT OF ASIANS IN GOLF
Written By
by antonio marshall
THE IMPACT OF ASIANS and Asian-Americans in the game of golf has been of a phenomenal success. This success has resulted in the Asian culture's increase of interest in the game. According to current statistics provided by the National Golf Foundation, there are great increases of diverse interests in the game of golf. About 2.4 million of today's golfers are from an ethnic status. From the 2.4 million ethnic golfers, about 882,000 are African-American, about 851,000 are Asian/ Pacific Islander, and about 712,000 are American Indian, Eskimo, or Aleut.
THERE ARE ALSO great increases of new golfers everyday, and the interest alone is booming. Today's golfers reserve about forty percent of the U.S. population. Out of this 40 percent, 11.7 million (44%) are between the ages of 18 and 39, 6.7 million (27%) consists of Seniors (age 50+), and the rest of the golfer population falls into the Middle-Age category (age 40-49) at 21 percent, and the Junior category (age 12-17) at 8 percent. There is also an increase in the purchase of golf merchandise, and an increase in television ratings for tournaments sponsored by the PGA Tour. As a result, college students as well as younger kids are spending their time and money visiting the driving range, in an attempt to either develop their skills, or to become the next professional.
The domination of Tiger Woods (left), who proudly states a quarter of his ethnic background being of Asian decent, has hooked the world on golf. Tiger has been a dominating figure in golf since his early childhood. Since his early years, Tiger has been swinging a golf club and challenging himself to become one of the elite by reaching and defeating golf records set by past golfers.
As a result, Tiger became one of the youngest record holders, placing him as one of the most popular sports figures in the history of athletics. Because of his success, participation and interest in the game has reached great levels, especially for the youth.

He is, without a doubt, the most recognized sports figure in the world. Although Tiger's domination of the game and his competitors is a huge step for the Asian heritage, he is not the only Asian figure dominating the game. There are other Asian figures making high strides in the game of golf at various levels.
Vijay Singh (left), the winner of the 2000 Masters in Augusta, Georgia, overcame great strides to become the great golfer he currently is. A native of Fiji, he had a love for the game all his life. He worked hard at his game and became the best on his island at age 15. By the age of 17, he decided to seek greater challenges to conquer. Earlier in his career he had a minor setback due to an incident with the Asian Tour, but he continued to work on his game. He eventually joined the European Tour and became a success. In 1993 Singh joined the PGA Tour where he became rookie of the year and eventually the Masters champion.
Tiger and Vijay both have certain dominance and finesse to their game that demands the attention and respect of their competitors. The "Golden Bear', Jack Nicklaus, even admits his awe of Tiger's accomplishments. Tiger, whose success is constantly compared to Jack Nicklaus, has not achieved anything short of success in overthrowing records set by the "Golden Bear". The fruits of Tiger's success have created a unique connection with all golfers of all ages, especially with the youth. Vijay Singh, on the other hand, has created a similar impact, but towards a different class. Vijay's struggle and success across the globe helped to define his character. He is an individual who knows how to succeed and accept defeat with class. This story of international inspiration gained popularity with the older golfers around the world.
THE PGA is not the only area being impacted by Asian golfers. The LPGA is receiving its fair share of impacts as well.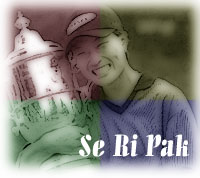 Se Ri Pak (right) and Grace Park are two female Asian golfers whose game is no less that dominating, and are setting trends for others to follow. Se Ri Pak began playing golf at the age of 14. Even at this age, her talent was defined. As an amateur in Korea, she won over 30 golf tournaments. She turned pro in 1996 and made the LPGA Tour on her first attempt. From this point Pak never looked back. She claimed numerous victories including the McDonald's LPGA Championship, the U.S. Women's Open, the Kroger Classic, and the Giant Eagle LPGA Classic. As a result of her compilation of winnings, Pak was named the 1998 Rolex Rookie of the Year.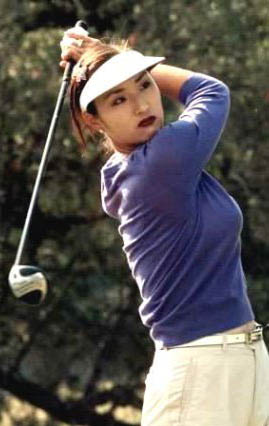 GRACE PARK (LEFT) is another female Asian golfer whose presence is becoming course. She won five of the ten Futures Tour events in which she participated. Park also played in five LPGA Tour events in 1999. As a result, she was named the 1999 SBC Futures Tour Player of the Year.
OTHER ASIAN WOMEN that will have a future impact on the LPGA are: Mi Hyun Kim, Jeong Jang, Pearl Sinn, Soo Yun Kang, Gloria Park, Oh-Yeon Kwon, Hee-Won Han, Jenny Park-Choi, and Nan Kyong Ha. For years, golfers of Asian decent have not only held a spot in the PGA, but were responsible for its popularity. As for the women, will these lady players possibly make the LPGA more popular than the PGA Tour? Only time will tell.
Writer's Background Information
Antonio Marshall, a graduate student at Virginia Tech, wrote thesis project is to design a golf facility geared towards the youth - with an emphasis on attracting youths from all backgrounds.
He recently spoke at an international conference at Anhalt University in Bernburg, Germany that included leaders in the field of virtual reality and design in the world of both professional and academia.
The areas of research included new visualization technologies, movement in virtual landscapes, company presentations, and graduate work. My research project was 'Diverse Horizons: Golf Course Design for Juniors'. His research is an attempt to attract today's youth to the game of golf by designing a golf course customized for them.
The First Tee Program of the PGA is a non-profit organization that attempts to make golf more accessible to those who otherwise would not be able to play. This program is the engine used to create design ideas for the custom golf facility in his project.
He states that the relevance of his project to the conference is the usage of computer technology to aid in my research. Arc view GIS is a program that coordinates statistical data and can create virtual models of it. He's using this tool to gain information on the disadvantaged as well as juniors, in locations that range from urban to rural areas.
He also used the CAVE to gain more concrete data for his design. The CAVE (Cave Automated Virtual Environments) is a three-wall cell that gives the user a sense of being in a virtual world. A projected image of a computer model is placed on the floor, and each wall of the cell, therefore creating a sense of virtual reality. He created six categories that represent the junior golfer: Age, skill, gender, intellect, culture, and physical attributes.
He selected numerous representatives from each category, and allowed them to complete a survey, participate in a design activity, and experience a pre-designed golf course in the CAVE. From their feedback, he will create another golf course that will be a better custom fit.
THE GAME OF GOLF is definitely a sport on the rise from its label of being a "retired man's game". It is also drifting away from being a game played by mostly the rich and elite. The golfers previously discussed are definitely considered trailblazers in golf for the Asian culture.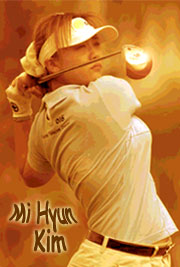 THE SUCCESSES of these golfers have created a huge impact and have definitely encouraged the participation of more Asian and Asian-American golfers. Now more than ever, a greater number of Asian and Asian-American golfers are attracted to the game and are leaving trails of success at all levels of play. Because of the tremendous impact created by golfers of various backgrounds, a great majority of the world's population has picked up a golf club, played a golf video game, or watched some sort of play of the game for more than five minutes.
THE LABEL OF GOLF being a game enjoyed only by the rich, or the retired white male population has placed a negative stigma on the game, leading to the assumption that the game is biased. Nevertheless, diverse participation and success, current golf statistics, and a visit to the local golf course has, and will further, aid in the success of weakening the effect of this stereotype. It will allow all people to recognize the beauty and purity of the greatest game ever invented.




Any questions regarding the content, contact Asian American Artistry
site design by Asian American Artistry
Copyright © 1996-2003 - Asian American Artistry - All Rights Reserved.